IN VIVO STUDY
Determination of the dose effect of compound TAV64 administered as a bolus intravenously in a model of sepsis in rats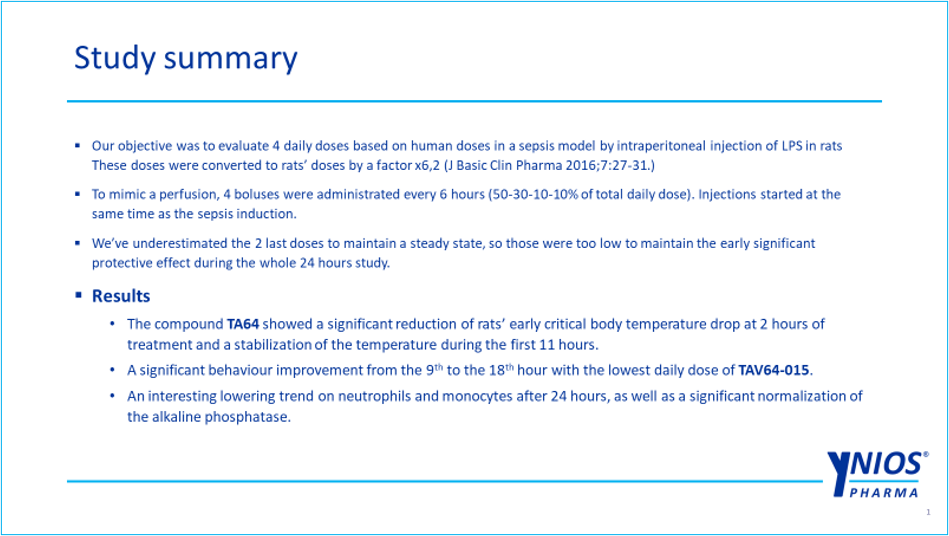 Randomization of animals into 5 groups of 8 Wistar rats according to body weight on D1.
Induction of sepsis by intraperitoneal injection of a solution of lipopolysaccharides at a dose of 5.5 mg/kg.
Administration of TAV64 every 6 hours for 24 hours in order to "mimic" a continuous infusion.
3 daily doses of TAV64 tested, based on the targeted human daily dose and converted to the dose to be administered to the rat based on the publication "A simple practice guide for dose conversion between animals and human" (Nair and Jacob; Journal of Basic and Clinical Pharmacy Vol.7-Issue 2-March-May 2016)

TAV64015 < TAV64040 < TAV64065 = potential target daily doses
INFLAMMATORY BOWEL DISEASE (IBD)
IN VIVO STUDY
Efficacy study of compound TAR64 in Chronic Inflammatory Bowel Disease (IBD) in mice
Dextran Sulfate Sodium (DSS), an acute colitis inducer, is administered for 7 days followed by 5 days of withdrawal (no DSS). The DSS is administered (at 4%) in the drinking water available ad libitum for the animals, and renewed every two days, according to the SOPs of the TCS for the induction of IBD.
All treatments start on D1 (the same day of DSS induction) and are administered until the end of the study (D12). The mice are randomized into the following 4 treatment groups: vehicle, TAR64100, TAR64200 and TAR64400.
Study endpoints:
• Assessment of animal health and body weight
• Overall clinical score for daily IBD: diarrhea or stool consistency, bleeding, loss of body weight, mortality.
•  Endoscopy quotation D8 and D12
• Blood leukocytes D7 and D14
• Assays of plasma cytokines:IL1-β, IL-6, IL-10, IL-17A,TNF-α, IFN-γ and IL-12p70 and IL-23p19/p40
• Assay of blood biomarkers: Myeloperoxidase (MPO)
• Colon weight and lenght
• Histopathological assessment of the colon.
The study is on-going.
ANTI-INFLAMMATORY PROPERTIES OF TA64 ON HUMAN MONONUCLEAR BLOOD CELLS
Stimulation of mononuclear blood cells with LPS at 100 ng/mL induced a significant increase in the levels of IL-1b and IL-18 in the culture supernatant. Compounds TA6496 and TA64128 significantly reduced IL-1β and IL-18 levels in a concentration-dependent manner, IL-1β and IL-18 being implicated in the inflammasome described as critical in many inflammatory diseases.