YNIOS PHARMA is a biotech start-up, aiming to develop new oral and parenteral treatments for pathologies involving cellular degeneration induced by inflammation.
The company is building up a health platform for developing treatments for acute and chronic diseases, using its proprietary ionic compounds.
At this stage, the company strives to validate Proof of Concepts enabling to support the preclinical development of multiple pathologies related to both acute and chronic inflammation. These pathologies are Acute Ischemic Stroke (AIC), Chronic Inflammatory Bowel Disease (IBD) and Charcot-Marie-Tooth disease (CMT1A).
OUR PRELIMINARY IN VITRO TESTS
Preliminary in vitro tests on Wistar rats have confirmed the efficacy of the ionic compound YNIOS PHARMA TA6415 in a model mimicking stroke with oxygen and glucose deprivation for 2 hours, followed by oxygen reperfusion and glucose and the ionic compound TA6415 for 48 hours, thus reducing the death of cortical neurons from 49% in the control group to only 5% when treated with the compound TA6415, which means a reduction significant cell death of nearly 90% (Figure 1).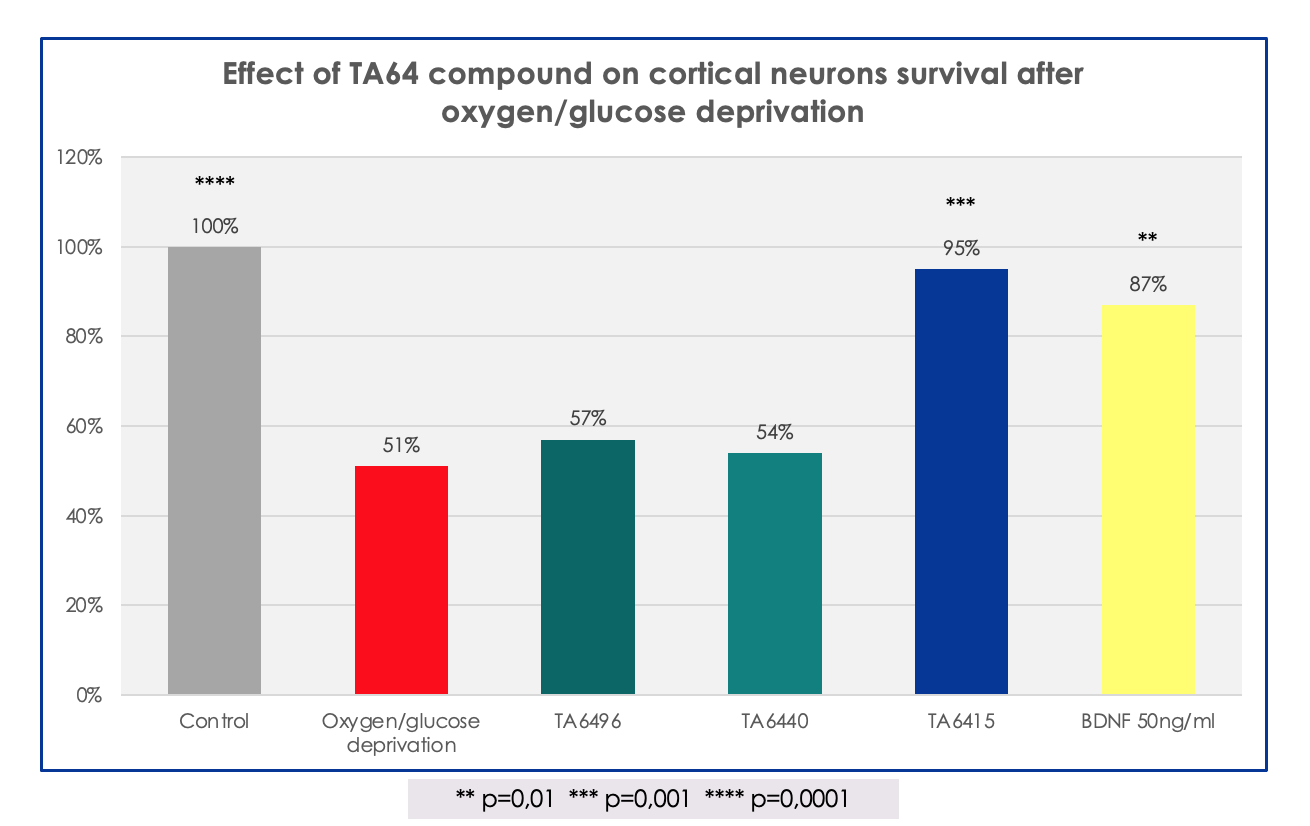 Preliminary in vitro tests on Wistar rats have confirmed the effectiveness of the ionic compound YNIOS PHARMA incubated 1 hour before in a model mimicking Alzheimer's disease with glutamate intoxication for 20 minutes. The TA6415 compound reduced the mortality of cortical neurons from 58% in the control group to 10% with pre-treatment, i.e. nearly 6 times less cell death with the YNIOS PHARMA compound.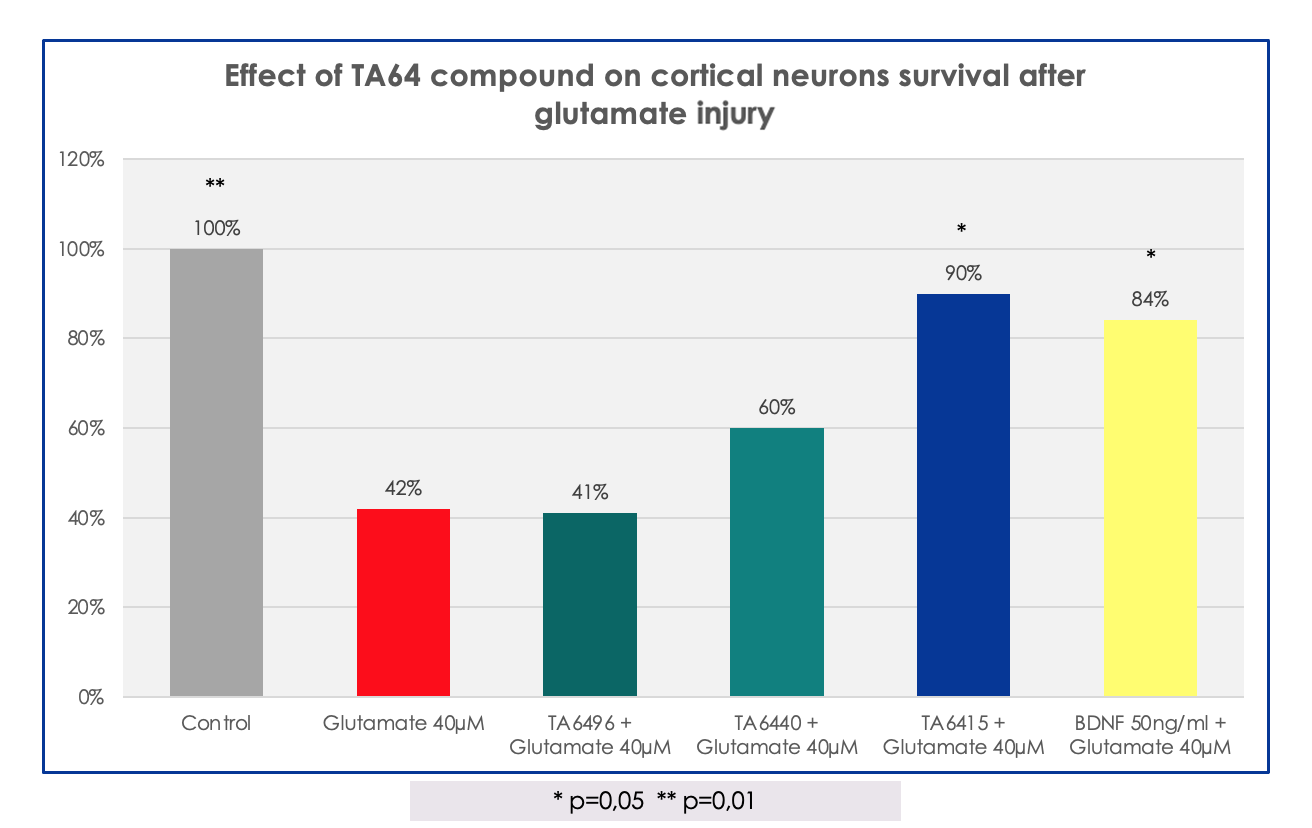 Preliminary in vitro tests on Wistar rats have demonstrated that a two-hour pre-treatment with the ionic compound YNIOS PHARMA significantly limits the release of TNF- from sensory neurons after injury with 12µM cisplatin for 6 hours (Figure 3). The 6 concentrations of compound TA64 tested demonstrated highly significant protective efficacy.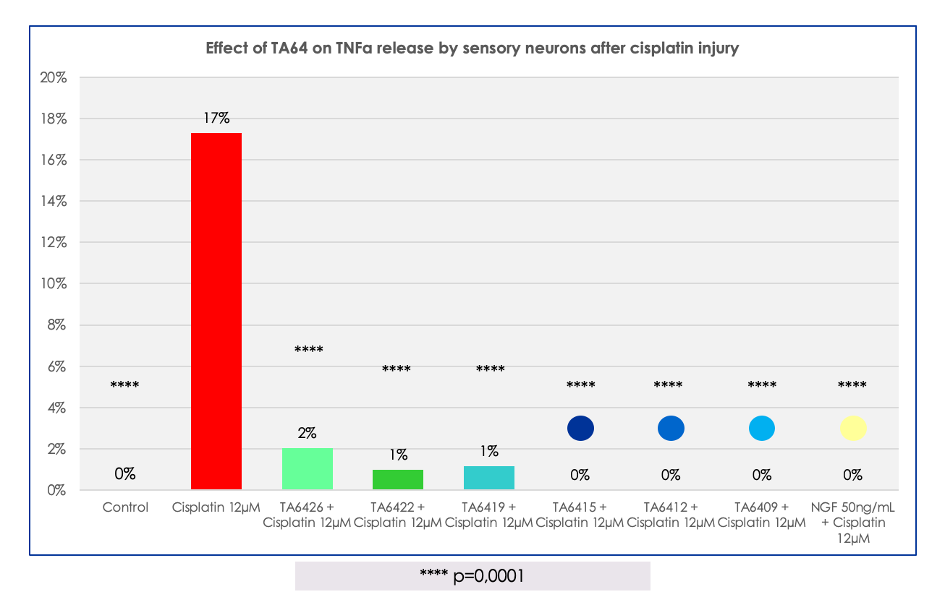 And soon…
Based on accumulated in vitro evidence, YNIOS PHARMA's next milestone will be in vivo experimentation during Q4/22.
Its pluri-ionic complex TA64 will be tested in vivo on an acute sepsis model in rodents, induced by LPS, to demonstrate its efficacy to dampen the cytokine storm and thus be protective against multi-organ failure.
A second in vivo evaluation in the context of chronic low-grade inflammation will be performed on an Inflammatory Bowel Disease (MICI) mouse model, induced by DSS, to demonstrate its protective effect.